Disclaimer: Please note that the links used in this post do generate a (super) small commission for me if you make a purchase. Follow me on TikTok @makeupmamalife for affordable makeup shopping tips.
If you haven't heard of bareMinerals cosmetics brand, they are all about clean natural makeup.  bareMinerals is thoughtful with  every product they come out with.  Also, bareMinerals focuses on the skin complexion and tone first – because if you don't have a base, how good could your makeup really look?
bareMinerals did start focusing on clean makeup well before it was trendy to do so. ..
Be Original Be Natural Be You – bareMinerals
I've spoken about one specific bareMinerals product that I love for my skin in the summer time which is the Complexion Rescue Gel.  It is found in the post called "Best Sheer Foundations" where I go head to head with Mac's Face and Body vs. the bareMinerals Complexion Rescue Gel.  I love the bareMinerals Complexion Rescue Gel that I think it's the most used foundation product for me this summer.
The Best bareMinerals Products You Need to Own
Since we just discussed that bareMinerals focuses on skin and is a clean makeup brand, I'll use those two benefits to determine what I think are the best bareMinerals products right now.
Let's start with skin prep products since the best bareMinerals products focus on healthy looking skin. With the Blemish Rescue line – the focus is on ensuring the skin is a clear canvas.
bareMinerals Blemish Rescue Product Review
Blemish Rescue Anti-Redness Mattifying Primer
The Blemish Rescue Anti-Redness Mattifying Primer is exactly what the title claims – reducing redness and delivers a matte look as a primer.  It soothes and evens out skin tone so that makeup application becomes flawless.  Definitely a must have primer if you're noticing that your foundation isn't working for you.
2. Blemish Rescue™ Skin-Clearing Loose Powder Foundation
The Blemish Rescue Skin-Clearing Loose Powder Foundation contains salicylic acid within the actual powder itself.  If you have an acne, the skin-clearing loose powder foundation will help clear your acne up while covering it up.  That's a win win if you ask me!
The Best Foundations from bareMinerals
1. PRO-Performance Wear Liquid Foundation (SPF 20)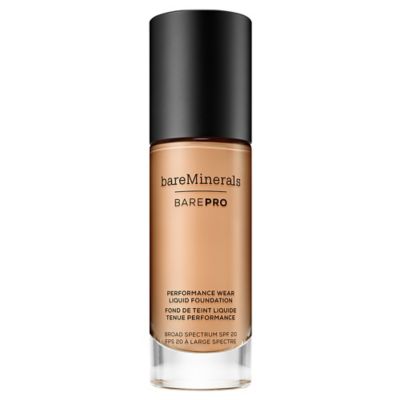 Now you know that any foundation that's performance based should contain an SPF. When I refer to "performance" based, I mean that foundations that wear well in the summer months and through physical activity. The Pro-Performance Wear Liquid Foundation the perfect everyday long wear that lasts.
2. Complexion Rescue Tinted Gel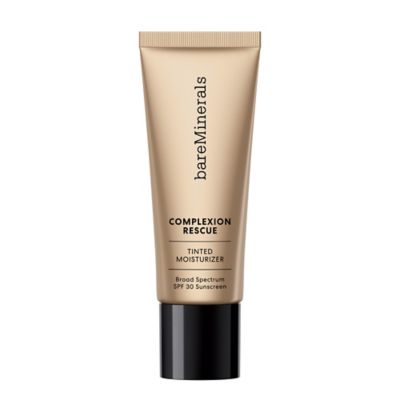 If you read my post on the best sheer foundations for 2018, you'll know that I'm a big fan of the Complexion Rescue Tinted Gel.  That being said, it definitely covers all the bases for a summer foundation.  Also, you can apply it with your fingers so it's really great post pool or beach, especially when you can't pack all of your beauty tools!
3. Get Started Mineral Foundation Kit
Even though this isn't a product but a kit, bareMinerals is known for their awesome starter kits. bareMinerals was one of my first brands that I explored when I was younger as I was trying to figure out either how to use makeup and then how to deal with the acne I was constantly getting as a teen. This is the Original Kit with an updated look – trust me it's the same perfect product I started my makeup journey with!
The Get Started Mineral Foundation Kit comes with 4 pieces:
Prime Time Foundation Primer – Perfecting primer for setting foundation and learning about when and how to use foundation primers
Original Foundation (SPF 15) – The loose foundation powder bareMinerals is known for and one of their best selling products with 5 ingredients to cover and heal skin.
Mineral Veil Finishing Powder – The perfect translucent setting powder (this was my first setting powder!)
Finishing Brush – Follow their three steps: swirl, tap and buff for the perfect finishing application.
---
The Best bareMinerals Cheek Products
bareMinerals is known for their loose and pressed blushes. They have also gotten into the highlighting trend and we'll look at the best bareMinerals highlighters as well.
Gen Nude Powder Blush
The Gen Nude Powder Blush is one of the best bareMinerals products to date.  If you aren't familiar with the Gen Nude line, it's basically a further take on their minerals line but with very neutral colours.  The colours can be chosen based on intensity.  There is an intensity for every shade of skin tone from lighter to darker so that everyone can choose how light or bold they want their blush to look.  Colours range from mauves and plums to give an overall flushed look.
2. Loose Powder Blush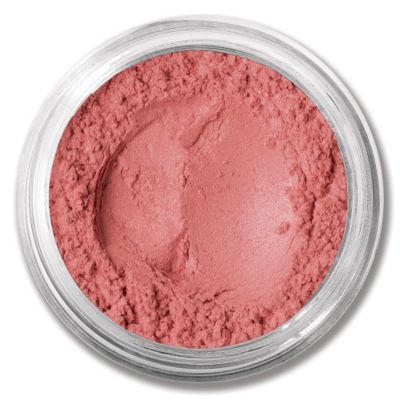 Since bareMinerals is known for their loose foundation and loose blushes, of course I had to call out the very famous loose powder blush.  Again, following the: swirl, tap and buff approach, this is the perfect loose mineral blush.
The biggest difference between the loose powder blush and the Gen Nude Powder Blush is that the loose powder gives off more of a vibrant healthy glow.
Even writing this bareMinerals loose powder blush review is making me want to buy one!
3. Crystalline Glow Bronzer & Highlighter Palette (Limited Edition)
Although bareMinerals isn't really known for their best highlighter, they have a wide variety of bronzers.  I chose this Crystalline Glow Bronzer & Highlighter Palette to feature because I loved the variety of highlight and bronzing powder.  It really is a palette that has it all in one and because it's mineral based you get a more natural look than some of the chalkier and glittery highlighters out there.  It's also a limited edition so you better get your hands on this fast!
The Cyrstalline Glow Bronzer & Highlight Palette looks SO similar to the Hourglass Ambient Lighting Palette
This could be a great thing because I love Hourglass Ambient Lighting Powders but if the bareMinerals Crystalline Glow Bronzer & Highlight Palette is similar, I'm happy to purchase the $34 item vs. Hourglass at $75 (at Sephora).
---
The Best bareMinerals Eyeshadow
Eyeshadow palettes are not a new product for bareMinerals.  They carry loose eyeshadow pots as well as pressed eyeshadow palettes.  Here are my top two eyeshadow products from bareMinerals:
Gen Nude Eyeshadow Palette – As mentioned above, the Gen Nude line is a pressed powder line that focuses on nude colours.  The Gen Nude eyeshadow palettes are: Latte, Rose, Neutral and Copper.  They are formulated to last all day and are very blendable.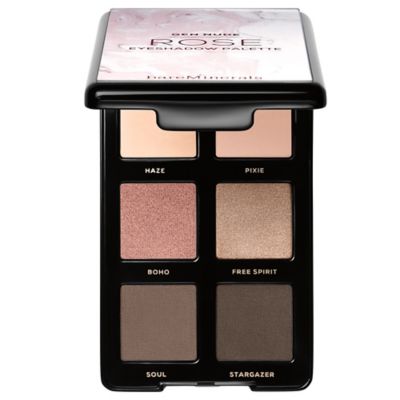 2. Loose Mineral Eyecolor – Described as "velvety smooth" the great thing about the loose mineral eyecolour is that it can really vibrant but easily blendable.  The formula ends up being really creamy and these eyeshadows move with your natural eye and doesn't crease! How pretty are these colour below?
---
Other bareMinerals Products
There are a lot more bareMinerals products that I would highly recommend.
Lashtopia Mega Volume Mineral-Based Mascara – This mascara will provide you with 10x lash volume and is infused with minerals.  If you're worried about wearing mascara every day because it's harsh on your lashes then the Lashtopia Mega Volume Mineral-Based Mascara would be perfect for you.
2. One Fine Line Micro Precision Eyeliner – I'm obsessed with thin crayon liners.  They are so easy to apply especially in the outer corners of the eye and especially close to the lash line.   Thin liners are great for being subtle but then also give you the option to go bolder and build upon the lines you create.  Quite possibly the perfect cat eye?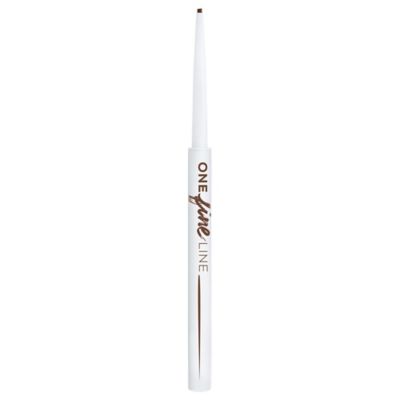 3. ClayMates Duo Masks – Can you believe this is a thing? Two masks in one jar! The ClayMates Duo Masks solve two skin problems in one jar. For example, one of the ones I love is the "Be Pure & Be Dewy" which basically fights impurities on one side and allows your skin to have a fresh dewy look with the other product. How genius is that?!
There you have the best bareMinerals products you need to own. These are my opinions but I would love to heare about the bareMinerals products you've had success with or love! Let me know your thoughts.
---